What got you into teaching as a career?
I enjoyed the energy and creativity of children.
What's the best part about teaching kids to read?
It is wonderful to see children's pride in their achievement and confidence in themselves grow before your eyes. Their head is a bit higher and their shoulders are a bit straighter. They discover that if they persevere, they will succeed. That realization transfers to all aspects of their development. They become involved in directing their progress and take ownership of their education for their personal advancement, rather than for an adult's approval or a sticker. The question an adult can ask is: "Are you proud of what you have accomplished today?"
What about the most difficult part in teaching kids to read?
The difficult part is when one door to reading doesn't work for every child. They start to label themselves as non-readers. They might memorize short stories and choose the same book each day in order to look like a reader.
I remember volunteering with a Gr2 student who had been reusing the same book. At the end of the year, he made a card saying, "Thank you for making me smart." I told him that he was always smart; we just had to find the right door to reading.
It spurs you to break down the stages so they can take their first steps that lead to success. That first taste of success is so important; it leads to the next step and the next.
What gave you the idea to create 'Best Reading! Phonics'?
When I had to go on 1/2-day sick leave for a year, I requested afternoon Senior Kindergarten classes (my first love). Kindergarten classes were then half-day: four-year-olds in the morning, five-year-olds in the afternoon. At that time, my school had limited material for beginning readers. There were mostly short books with repetitive phrases or lists that relied on picture clues.
I started to use the British Jolly Phonics method of an action associated with each letter sound (I only used that part of the program). I would choose a handful of new letters to make words for a short story, as well as a couple of kindergarten sight words from the required Dolch Sight Word List. I made paper puzzles of letters and pictures with that starting sound, memory games to match phonetic words-to-pictures cards, and sight word card games. There would be two sets per student: one for school and one for home. The six-page paper books were 11×17 photocopies that folded without a staple. I drew 'Smurf' type characters – huge amount of hair, big t-shirts with their large feet at the bottom, and their hands behind their backs (because I couldn't draw hands…). I would print different names on the t-shirts that would match the letters I was teaching. The students could colour and add to the paper books. We would have a blank one for their own stories. We did printing, grouping them by their shapes. We did spelling with individual letter cards.
I made 'Magic Boxes' for home and school that had a curved paper slide going through slits in the top and the bottom of a Kleenex box. I printed phonetic words on small cards and drew the corresponding picture upside down on the other side. The child would read the word and put it in the top slot. It would slide down the curve and out the bottom with the picture side showing. The child could see immediately if they had read the word correctly. They would place them in two piles: 'Words I need to practice' and 'Words I don't need to practice'.
Since I had the students with me while creating the stories, I would know which sight words needed reinforcing and how quickly to go onto the next letter sounds.
The rotation of kindergartens during that period was one week in the French classroom and one in the English classroom. I had two classes that I would see every second week. They had the books and activities at home for the week I didn't see them. When I returned to full-time the next year, I left kindergarten. Years later, I had grades one and two and wrote Long Vowel stories to add to the Short Vowel ones. We added the classroom games of Body Spell and Melting Snowman (which you can find in the videos here).
How can 'Best Reading! Phonics' be used outside the classroom?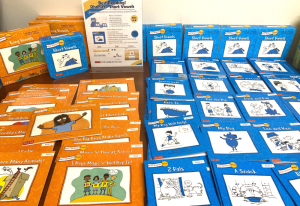 The online edition has everything needed. The book is narrated. The hands-on activities can be photocopied, as well as the illustrated paper books. The Long Vowels have text-only paper books, and the student can illustrate them. There are interactive games with audio and pictures, so that it can be used independently by the student. Printed books can be ordered should they be desired.
I arranged information in the Teacher Resources so that a teacher/parent could present the grade one and two Language Arts curriculum.
What's the best piece of advice you would give to a parent or educator who is just beginning to teach a child to read?
Start with small bites: new letter sounds and sight words. Stay there until the child is sure of them, using the different activities to reinforce the same material. Even a game of "I Spy something that starts with the letter …" reinforces letter sounds.
When introducing new material, mix in some known words so the student has a sense of accomplishment. Continue to use a difficult word in the next games so they see it often. Adapt the content of the hands-on games to the student's needs.
Print a difficult word and stick it on the fridge, beside their plate, on their pillow, in their shoe… Have them hide it for you to find after they've read it.
We would have a classroom 'Magic Doorway' with two or three sight words taped to the frame. The students would have to read the word/words before leaving. I would be there to point to a different one so they would have to read it instead of repeating what the last student said. At home, it could be one word each day. Involve the child and have them tell you which words are difficult for them and choose from those. Make a pile of known words so the child sees their success.
Buy Best Reading! Phonics here.
Why should phonics be used to teach kids to read?