For nearly 30 years, DC Canada Education Publishing has supported children's education through the creation and distribution of accessible learning tools such as books, games, songs, and more recently, online programs. Now, we turn to CHEO to help children in other ways! We are proud to combine our love of books with the hospital's commitment to kids' health and wellness. In support of the incredible work CHEO does for kids in our community, DC Canada will donate $1.00 for every book we sell this year (June-December 2023).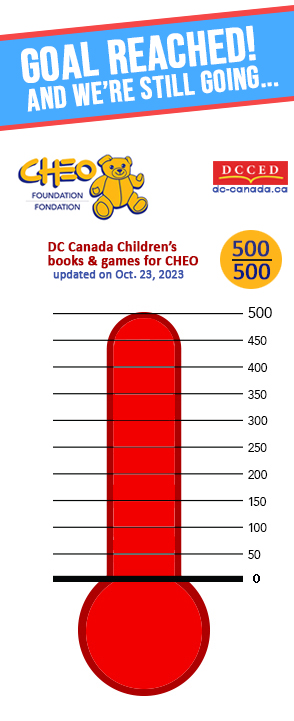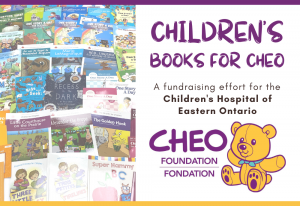 The Children's Hospital of Eastern Ontario (CHEO) has been a cornerstone of our community since its foundation in 1974. In 2023, we decided it was time for us to support the hospital's hard work with our own fundraiser, Children's Books for CHEO! In support of the incredible work CHEO does for kids, from June to […]
Read More

→
Hey, Ottawa, think we can sell 500 books?
There are few things on this planet that I like better than seeing a kid with their nose in a book. This particular book, in the stock picture above, I used to teach my kids to read. Cup. Pup. Cup on Pup. Pup in Cup. No, do not hop on Pop. The rhythm alone was worth the exercise. It taught them that no only should language communicate but that it should sing, too.
Another thing I like a lot in this world is humour. So when the folks behind DC Books' Twitter account started asking funny questions, I replied in kind. How do you get children into books, they asked?
Easy, I said. "You need to fold them tightly then stuff them between the covers."
Har.
My own personal way of getting kids interested in books was to surround said kids with books from even before they were born. There were literally always books around them when they were little, and it's still true now that they are teenagers. But here's the important thing: other than assignments, I didn't force or even encourage them to read this or that. Instead when I saw that they were interested in something, I asked them why they liked it and did my best to get more of that sort of thing.
In case you're wondering: No, I did not buy all these books. Many I received as gifts and hand-me-downs. You can also find some gems at the thrift store. But really the bulk of the books I had in the house came from my beloved Ottawa Public Library. I'd take the kids and they'd go nuts picking whatever struck them that day. We'd go regularly, maybe once a week. You just never know what's going to interest one kid on any given day. Sometimes the time is right for Dr. Seuss and sometimes it's Percy Jackson and all kinds of possibilities in-between. The library lets you have piles of varied stuff around the house at no extra cost. And once you know for sure a kid loves a particular author or series, then you can purchase your own copy if your budget allows.
Should you be at the point of buying a book or three for the little ones in your life, may I suggest looking at the great fundraiser DC Books has going on until December? For every book sold, $1 will go to CHEO. The goal is $500. Not to boast about my math skills or anything, but that's only 500 books for a city of a little over 1 million people in six months.
I say that's eminently doable. Happy reading!