Warning: don't read this book if you're hungry! Zain, his mother, and his grandmother are busy making some beautiful ka'ak cookies to share with Zain's class. By the time you get to the end of the story, author Aya Khalil's description of the tasty treats will have your mouth watering. Thankfully, she includes her family's recipe at the end of the book!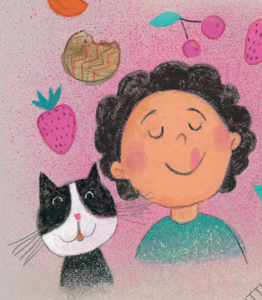 The Night Before Eid is a heartwarming tale of tradition, family, and sharing cultures. It traces the history of ka'ak back to the Ancient Egyptian pharaohs and highlights the importance of passing down recipes through the generations. For those who celebrate Eid, this book will surely bring back memories, while those who don't will learn something new about Egypt, Islam, and Arab foods.
Rashin Kheiriyeh illustrates this sweet (haha, get it?) story using mixed media, bringing Zain's family to life with soft colours and pencil strokes. The last pages of the book feature a note from the author and photos of her family, as well as more information about Eid and ka'ak in Ancient Egypt. Then come the recipe and a list of resources to explore if readers want more information.
There is no doubt in my mind that this book is deeply personal for both author and illustrator. What better way to connect with classmates, friends, family, and even strangers than by sharing a piece of your culture?
The Night Before Eid – A Muslim Family Story is available through Hachette Book Group and on Amazon.