If you've been to an aquarium, you've probably seen coral, sharks, and even manta rays. Maybe you've studied hermit crabs or helped rescue a dolphin or two. But have you ever seen a grandma turn into the extinct ocean giant Megalodon?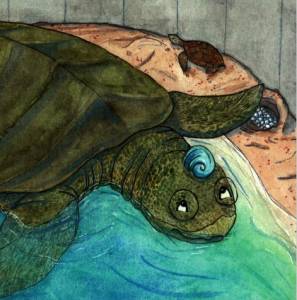 In The Adventures of Grandmasaurus – At the Aquarium Rescue Centre by Caroline Fernandez, two kids try to keep their grandma in check as she magically sneezes herself into the tanks… as Mesozoic sea creatures! While chasing down runaway Grandma, the children learn a lot about aquatic animals, extinct and current, and make a few notes about conservation efforts—all the while receiving support and encouragement from their teacher, Ms. Priya.
The last page of the book is a sort of illustrated glossary with all the Mesozoic creatures' names, silhouettes, and brief descriptions. With a diverse cast and colourful aquatic scenes hand drawn by Shannon O'Toole, this book is the perfect combination of earth sciences (or water sciences???) and adventure, with just a dash of magic. O'Toole's use of facial expressions brings the characters to life, especially when drawing Grandma in her various dinosaur-like forms.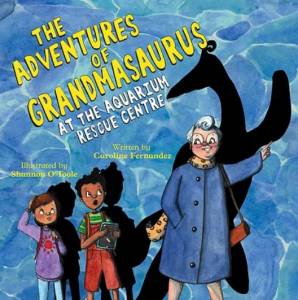 Fernandez is all about incorporating natural sciences into her children's literature. After all, education is much more fun when intertwined with storytime! This book is a great starting point for conversations about dinosaurs and their contemporaries, ecofriendly and environmental topics, and of course the silliness of grandmas.
While the Grandmasaurus series was done with Common Deer Press, Fernandez's latest, A Pod, a Gaggle, a Bob – Animal Groups in North America (working title), will be published through us, DC Canada Education Publishing, in 2022!
Buy The Adventures of Grandmasaurus – At the Aquarium Rescue Centre from Amazon or Barnes & Noble, and keep your eyes peeled for A Pod, a Gaggle, a Bob… soon to be available on our website!