When someone knocks at your door, odds are it's a delivery. But at Mr. Thatcher's house, every knock is a new bunch of storybook characters looking for a place to stay! The three little pigs' homes collapsed, and the old woman who lived in a shoe simply can't keep so many children in such a ragged piece of footwear any longer.
So what do they do? They call on the best bunny carpenter around, a rabbit so intent on building the perfect house that it takes a pile of unruly guests for him to realize that home is the people with whom you share a house.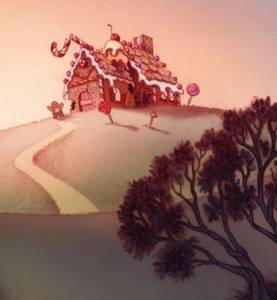 Kristin Wauson's tale of friendship and community is as moving as it is beautifully illustrated. Not only do the pictures have that key fairy tale charm—warm colours, soft lines, a hint of magic—but they also tell their own story! Wauson doesn't need to describe every little event with words when her illustrations speak for themselves, giving background info (kids eating the gingerbread house, forcing the witch to find new accommodations two pages later, for example) and other neat little details that give the story that much more appeal to children and adults alike.
This book is perfect for kindergarten to grade three (and for adults like me who love children's literature and were raised with the classic fairy tale characters who make an appearance in Wauson's book) and is available through Sleeping Bear Press and Amazon.