Regardless of whether you're a fan of avocado toast, you'll surely be entranced by Avocado Magic, a touching story a growth by Israeli author-illustrator Taltal Levi. The story follows a young girl who, a bit impatient to grow up, learns to slow down and enjoy life as she waits for her avocado pit to turn into a tree.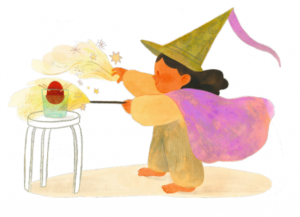 With her father's life lessons in mind, our young protagonist -and her plant- go through the many different stages of human existence from youth to adulthood in a beautiful medley of soft yellows, greens, and oranges, with occasional bursts of bright colour. Levi's pencil-crayon style captures not only the lively expressions of a child but also the slow, steady, reliable growth of a plant (and a person).
At the end of the book are instructions to grow your own avocado from a pit. I have to admit, I have tried this before and lost patience! But after reading Avocado Magic, I just might try it again—maybe this book will give me the pinch of luck I was missing before.
If you're looking for a gentle bedtime story for readers 4 to 8, Avocado Magic is the perfect choice. And it may just have parents shedding a tear or two when they think of their kids growing up and leaving the nest someday!
Don't miss this adorable, serene picture book, available here as of March 2024 from NorthSouth Books.