215. 751. As more and more unmarked graves are being recovered, the true horror of Canada's residential schools is entering the collective consciousness. Of course, Indigenous communities across Turtle Island are not surprised by these numbers—they have lived through the tragedy of these missing children for generations.
The Truth and Reconciliation Commission states that between the 1800s and the 1990s, over 150,000 Indigenous kids were forced into these schools, breeding grounds for hatred, violence, and cultural genocide. As Canada Day 2021 approaches, pleas to #CancelCanadaDay are increasing, and Indigenous voices and their allies are demanding change. We stand by these calls for justice; Indigenous suffering at the hands of a state-sponsored system of oppression, both past and present, must end. We as a nation must band together in support of Indigenous communities.
But Canada Day means a lot to the citizens of this country, and cancelling this holiday is more complex an issue than it seems. Think of the immigrants who came to Canada for a better life. Think of their children, who recognize their parents' sacrifices. Think of the refugees who fled war and famine and genocide, and found peace here. Think of the brave soldiers who fought for our freedom in the World Wars. Think of the moments that bring us together, the people who innovate and create and discover.
That's why there are also calls to stop Canada Day celebrations, but to observe this day from a different perspective. Instead of painting your face with maple leaves, wearing your red and white outfit, spending $100 on fireworks, and singing the anthem proudly, consider alternatives that mark the occasion without forgetting that Canada was built on unceded Indigenous land, and that its development all but wiped out Indigenous culture and existence.
For many, Canada Day is a personal matter, and in light of recent discoveries, we will all have different feelings this July 1st. Some will wear orange or black in support of Indigenous communities. Some will donate that $100 firework fund to Indigenous charities. Some will forego Canada Day altogether. Some will celebrate no matter what because Canada Day is Canada Day!
Regardless of your individual stance on this matter, change is inevitable and long overdue. One of the key steps in achieving justice and equality is education, and education starts in childhood. Don't tell me your kids are too young to learn about residential schools and colonization—if the Indigenous children were old enough to experience them, your children owe them that much.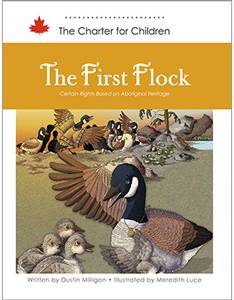 If you're wondering where to start, consider The First Flock by Dustin Milligan, an analogy about Indigenous land rights. That's correct: you can teach young people about heavy topics in an age-appropriate manner! No excuses… It's time to do our part in repairing the damage this country has caused to the First Nations, starting this Canada Day 2021.
Other resources to start conversations about Indigenous rights with kids: The Case of the Missing Auntie by Michael Hutchinson, Life Cycles of Caribou by Monica Ittusardjuat, List of Indigenous Children's Books.
If you or someone you know needs counselling, call the national residential school crisis line: 1-866-925-4419