If your child loves to read, loves libraries, and/or loves a specific book or series, and if their birthday is approaching, why not throw them an epic book-themed party? Check out these 5 neat ideas for hosting an epic birthday-book-bash!
Invitations
First step is to invite all those party guests! Follow these simple steps to make book-shaped invitations from everyone on your list. You will need: white paper, construction paper, glue, scissors, a black pen and marker, a pencil, colouring pencils, a ruler, and some creativity.

1. Start with a 9×6 sheet of construction paper (or cut a larger one down to size). Fold it in half.
2. Measure and cut your white paper to make it smaller than the construction paper, leaving about 0.5 cm around each edge. Fold it in half.

3. On another sheet of white paper, draw three balloons (or whatever birthday image you'd like). Alternatively, print one out and skip to step 5.
4. Colour in your balloons with the pencil crayons. Trace them with the black marker.

5. Cut them out carefully. If you drew your own image, this is your opportunity to fix the outline if it was too thick in certain areas, or adjust any that were too thin.
6. Glue the balloons on the "front cover" of your construction paper—the outside flap.

7. Add the strings to hold those balloons in place! Write "Birthday!" or "Birthday Party" or whatever you'd like above the balloons, and add your child's name below.

8. Take your white sheet of paper (the one you cut) and add the party details. Don't forget a date, time, and location!
9. Add a thin line of glue to the seam of the construction paper. Leave the top and bottom 0.5 cm without glue.

10. Carefully stick your white paper on the glue, lining up the two seams. Let it dry. Voila! Your invitations are ready to be sent out.

Decorations
In addition to decking the halls with streamers and "Happy Birthday" signs, you could put up book posters – even if that just means printing off images of book covers on your home printer. You can artfully arrange stacks of books on every table and put balloons everywhere… balloons on which you've written quotes from books!
If your child has a favourite book or series that includes a colour scheme (take the Gryffindor red and gold from Harry Potter, for example), make sure your streamers, tablecloth, and balloons are those colours!
Food
Not sure what snacks to make? These easy recipes will perfectly match the theme of the party:
Cupcakes decorated like a bookworm, pizza in the shape of a book, book sandwiches… it's time to get creative!
Activities
It's easy to turn regular party games into book-themed activities! Think along the lines of Pin the title on the book, musical chairs (the winner gets a book), a race where kids have to hold a book on their heads without it falling, pass the parcel (with a book inside, of course)… again, the possibilities are endless.
You can even take a group trip to your local library or bookstore and have a treasure hunt: Who can find a book about plants first? Who can find a book by an author whose name starts with A? Who can find a book with a blue cover?
Or, simply visit the library for some relaxing group reading and enjoy reading along with kids' favourite stories. If you're at a bookstore, consider buying each kid a little something–perhaps a bookmark–as a party favour.
Gifts
If guests are bringing gifts, ask each one to do something special: each friend gets a copy of their favourite book, writes a message inside the front cover, and gives it to your child for their birthday. BOOM! Your bookshelves are overflowing and your kid has a piece of each of their friends forever.
Still not satisfied with the quantity of books your child owns? Buy them the most beautiful poetry anthology, Recess in the Dark, about children in the Canadian North. Or pick up a copy of Our Farm in the City and follow a young girl through the Experimental Farm in Ottawa, Canada! Your young reader will love the colourful illustrations and the clever poems of these two works by Kalli Dakos.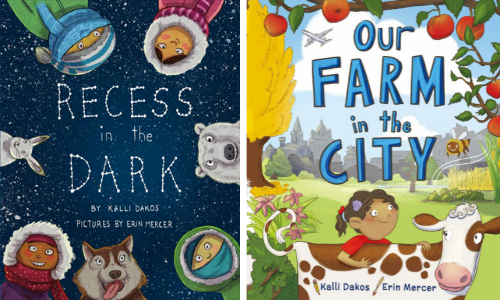 Do you have more ideas for a book-themed birthday? Let us know on Twitter, Instagram, or Facebook.