DRESSING UP
When those seasonal stores start popping up and the Walmarts and Dollaramas set out their Halloween collections, an important decision is necessary: What shall I (and/or my children) be for Halloween? Here are 5 cool costume ideas:
A character from a video game—Fortnite, or whatever the kids play these days!
A character out of mythology—Greek, Norse, Egyptian, Inca, Aztec, Iranian, Korean… the list goes on! This is also a great starting point for developing an interest in other cultures.
An unusual animal—never mind cats and unicorns. There are so many cool animals out there: capybara, sloth, platypus, axolotl, pangolin… Have you ever seen someone dressed as any of those? No? Here's your chance to talk natural science with your kids.
A famous person—and I don't mean the Kardashians. Think along the lines of Aristotle, Marie Curie, or Obama. Your child might even discover an unsung hero and decide they're their idol!
YOU! Your child can dress up as you, and you can dress up as your child. Even better, your kid dresses up as their grandparent, complete with mini walker and grey hair. Imagine the photo-op!
TRICK OR TREAT SAFETY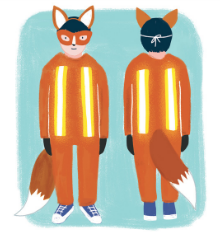 As a kid, I hated the neon armband my parents had me wear when I went trick or treating. And when I got home, bag full of candy, I hated waiting for my parents to check everything! I mean, was there really someone sticking razor blades in my kit-kats?
No matter how over-the-top certain safety tips for Halloween may seem, it's better to be safe than sorry—cheesy as it sounds. Kids wearing black morphsuits to dress up as shadows for Halloween is a neat idea, and works well during the day. But at night? They're far more likely to get hit by a car. And though there likely aren't needles in their peanut butter cups, eating candy or chocolate bars with damaged packaging is never a good idea: germs, bugs, drugs, sharp objects… from most to least likely. I wouldn't want a Mars Bar a stranger has touched with bare hands, anyhow.
Also, consider using non-toxic/hypoallergenic facepaint instead of a mask, which can obstruct your child's vision and lead to danger in the street.
SEASONAL READING
Get children reading with fall favourites from our beginners and young reader book sets! The best way to inspire a love of books is to find interesting topics and connect them to the real world. There's no better opportunity to read Halloween stories than in October, so check these out:
Everyone's favourite hamster hero is ready to celebrate Halloween with kids 4 to 7. Told in simple sentences with silly illustrations and accompanying audios, Super Hammy is the perfect series for beginner readers.
One Story a Day is unique in its format: one story for each day of the year, divided amongst 12 books. That means there are books for September and October with seasonal stories perfect for ages 5 to 13.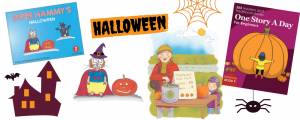 Happy Halloween!
---
External image sources: