BOOKS ABOUT ADVENTUROUS GRANDPARENTS
When you think of grandparents, you might think of knitting, grey hair, and walkers. Let me tell you, the grandmother and grandfather in our 2022 bilingual series bring so much more to the table! Dive into Grandma and Grandpa's Adventures – On the Road and In the Wild to discover what these hilariously unlucky old people are up to this time.
In On the Road, Grandma and Grandpa are trying to get to their grandchildren's place, with vehicle after vehicle letting them down. Will they make it in one piece?
In the Wild, meanwhile, follows the family on their crazy camping trip. Facing wild animals and leaky canoes, broken tents and missing coffee, Grandpa is at the end of his rope. What else will go wrong?
BY AUTHOR ESTHER MURRIS
Esther Murris was born in Hungary, from a Hungarian mother and a French father, so bilingualism has been her reality since a young age. The inspiration for her Grandma and Grandpa's Adventures series came from having her parents live far away and struggle to come visit their grandson.
Having these books in English and French—with both languages on each page—shows the value Esther places on language learning and dual cultures. The accompanying audio tracks are also in French and English to help guide the reader regardless of mother tongue.
TO CELEBRATE GRANDPARENTS AND BILINGUALISM
In many cities across Canada, French and English collide; my own mother is francophone while my father is anglophone. Finding books both my parents could read to me as a child was difficult… it either meant buying two copies, one in each language, or having different stories with each parent. While neither option is really a problem, Esther's mission to combine French and English within the same book makes her hilarious and unique series the perfect gift for bilingual families.
Plus, who doesn't love grandparents? Grandma is passionate and rigorous, while Grandpa is unlucky and perseverant. The two together are a perfect pair! This series is an ideal story time selection for a trip to the grandparents' or a wonderful way to remember them if they are too far to visit.
Who knows, maybe the Grandma and Grandpa's Adventures books will inspire the grandparents in your life to take off on a fun adventure!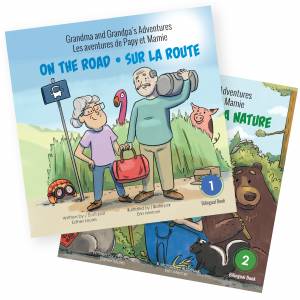 Check out the series here: https://www.dc-canada.ca/grandma-grandpa-adventures-papy-mamie/