If you have trouble sleeping, this one is (not) for you! Our latest bilingual book follows an exhausted shepherd as he counts each member of his herd of silly sheep. Through fields and over mountains, he counts his colourful, mischievous, hilarious sheep one by one until he gets to 176… and finds a whole bunch more.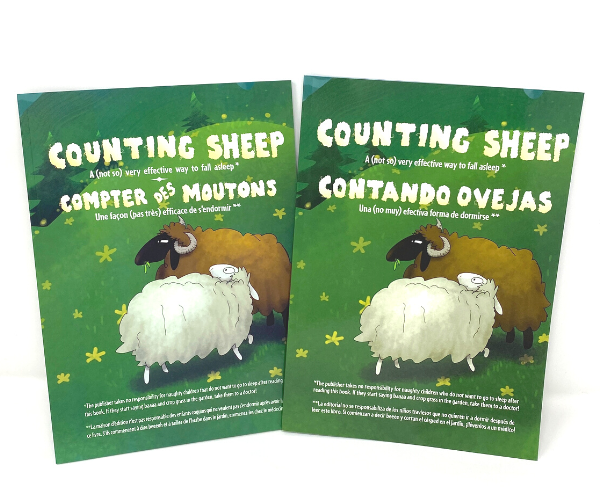 But the greatest part about this book—other than the adorable illustrations—is the bilingual aspect! You can get a copy of Counting Sheep in English-French (Compter des moutons) or English-Spanish (Contando ovejas) and make learning a second language an integral part of storytime.
Written by Huginn Þór Grétarsson and illustrated by Vladimiro Rikowski, this book from Iceland has it all: the numbers from 1-200 in English and French or Spanish; a short, bilingual history of numbers; and bilingual audiobooks available via QR code.
Kids of all ages will love inspecting the pictures in detail, finding that each sheep is in fact sillier than the last. And without even trying, they'll be learning a new language! Readers will meet all sorts of sheep – a sheep with a bucket on its head, an artist sheep, rainbow sheep, grumpy sheep, sheep under snow, a sheep the size of a three-storey house, and so many more!
Discover Counting Sheep today.