Three Little Piggy Banks is a story that teaches the basic principles of personal financial management. The twins, Ella and Andy, receive three piggy banks each for their 5th birthday when they have their hearts set on a camera and a bike. Their parents explain that the twins will start to receive an allowance of three dollars a week that they will divide into three piggy banks called Saving, Sharing and Spending. When Ella and Andy meet their goal of saving five dollars each, their parents will help them buy the gifts they wanted. Young readers will learn about delayed gratification, the importance of sharing, how to set a goal for saving, and how good it feels to buy something special while living within one's means.
The author, Pamela George, is dedicated to financial management and helping others escape the cycle of poverty and debt. Three Little Piggy Banks will put kids on the right track for a future of financial stability. Kids are encouraged to personalize their piggy banks and decorate them with pictures associated with their dreams and goals. The book comes with a handy pull-out tracking sheet to help them manage their savings, spending, and donations.
Illustrator: Meredith Luce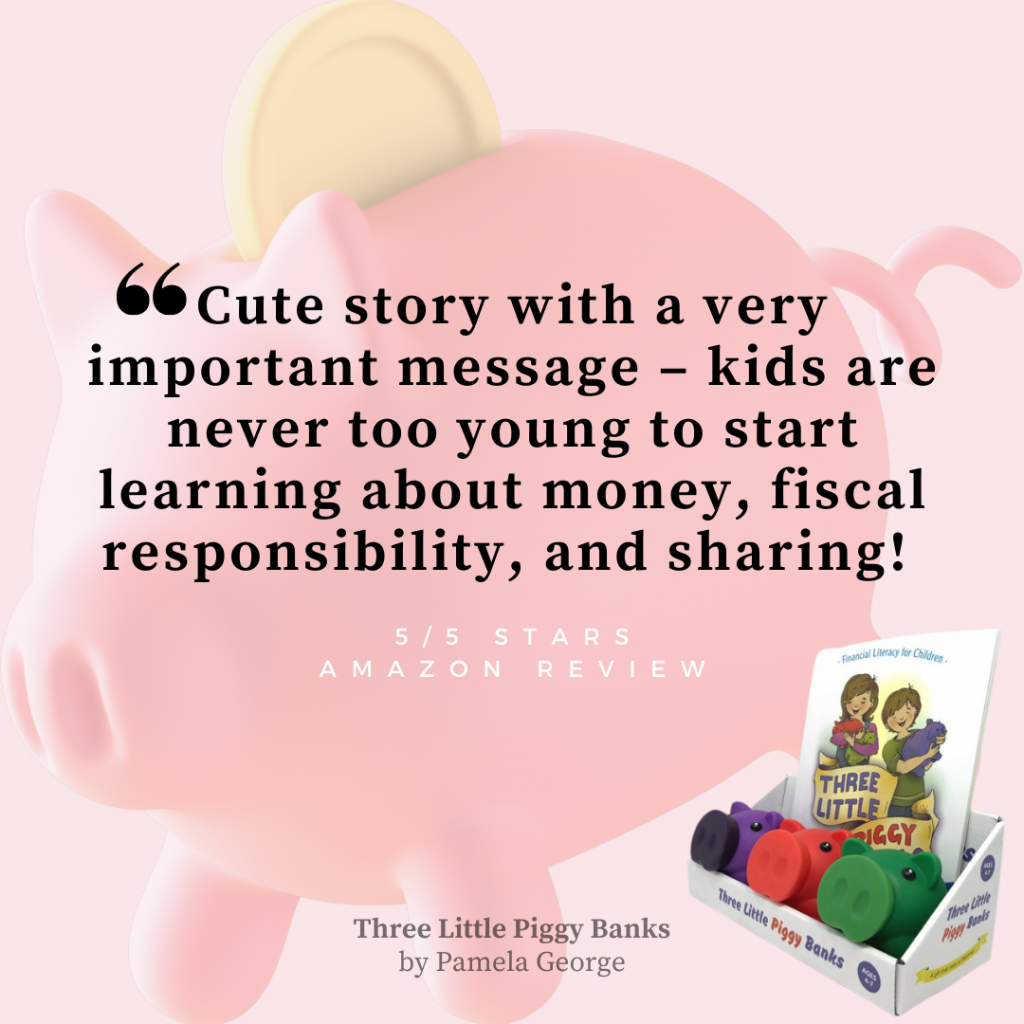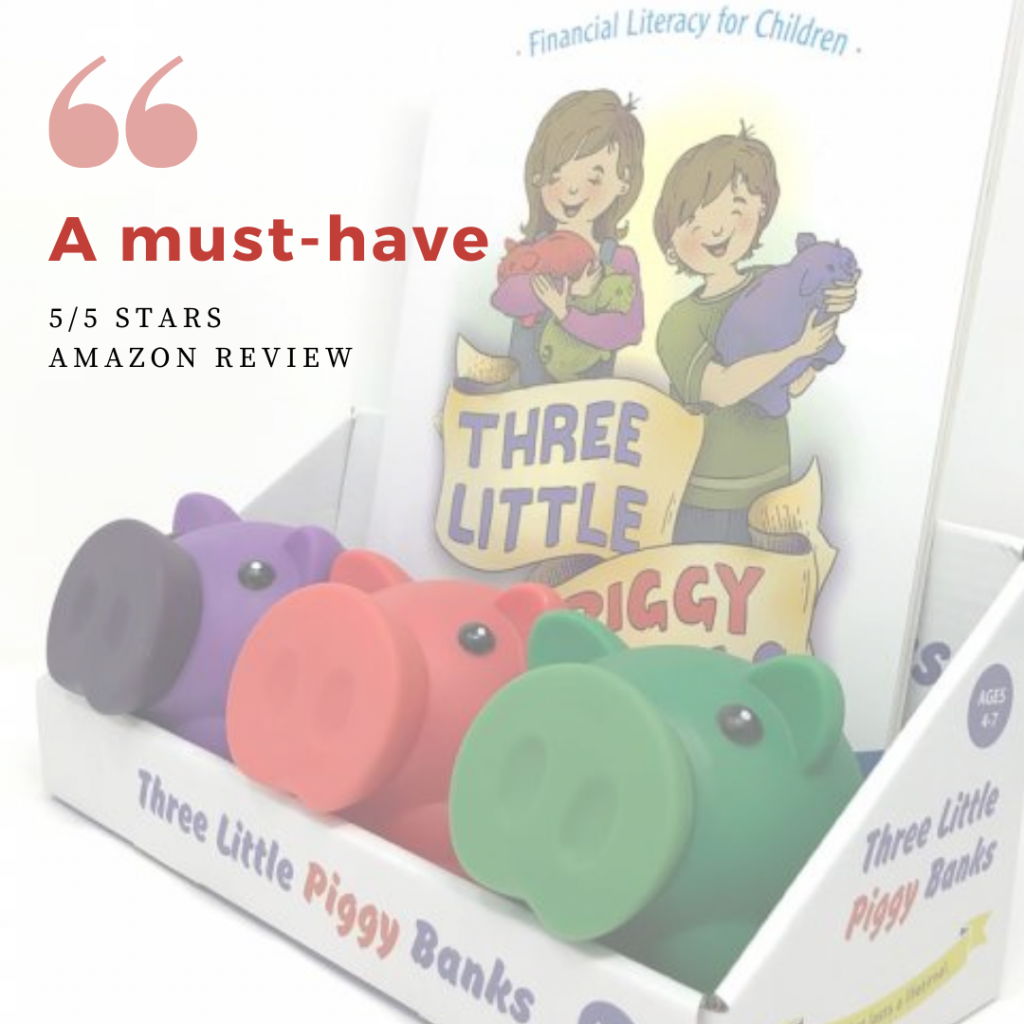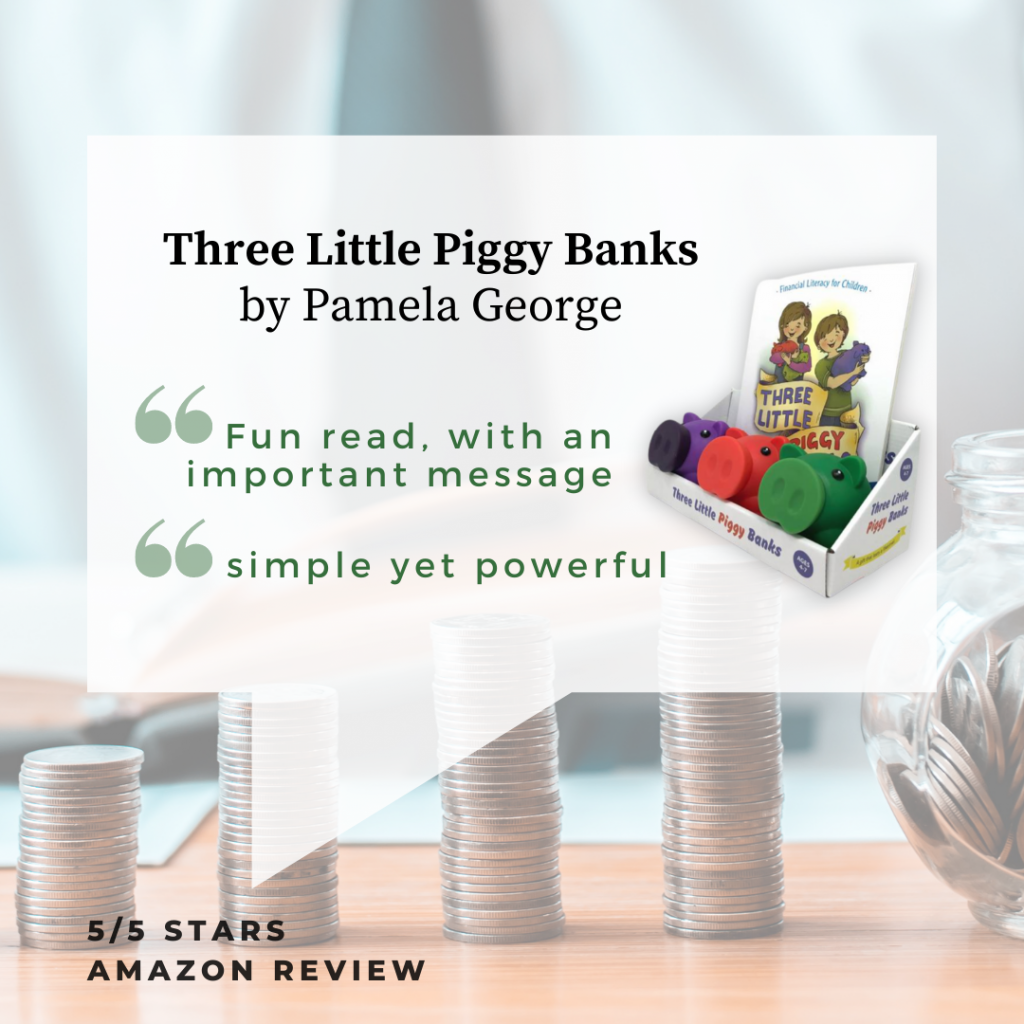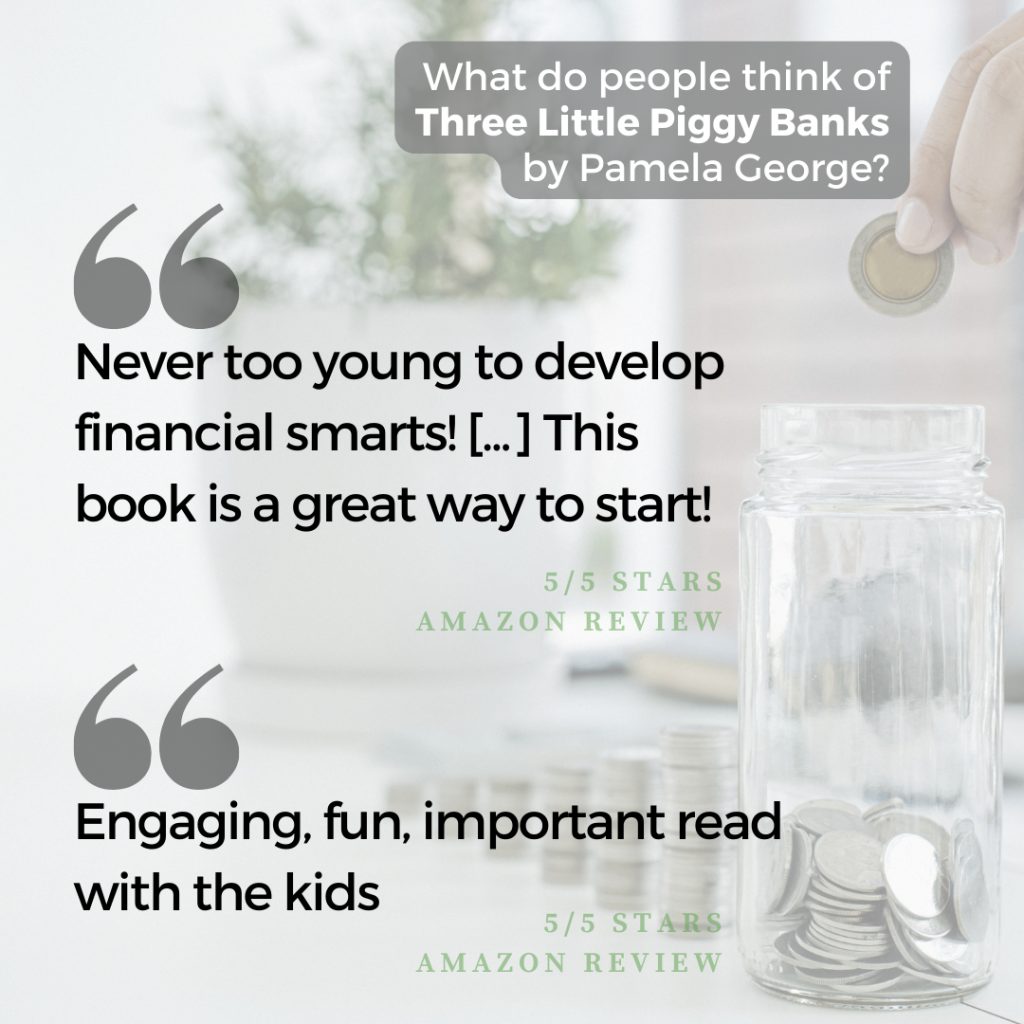 Pamela George was born in Trinidad and Tobago and now lives in Ottawa, Canada. From a childhood of poverty and growing up with an illiterate single mother, Pamela knows firsthand how education can be the key to breaking the cycle of poverty and abuse.
Pamela has more than 8 years' experience working in the financial field. Prior to her current job as a Credit Counsellor, Pamela worked as a Financial Aid Officer with Algonquin College. Pamela is an Accredited Financial Counsellor of Canada (AFCC) designee.
Pamela's passion is to help people, especially at a young age, to build strong and lifelong financial literacy skills. This book is one of the many ways that Pamela does this.
"Every day, I see how financial illiteracy causes homelessness, addictions, broken dreams, sickness, broken marriages, and broken children"
My objective for this book is to give children an opportunity to finally break that cycle and allow them to be free from the burden of financial worries and to enjoy the freedom of financial sustainability.
It is never too soon to start learning about money and how to manage it. Let's educate the children who will grow up to become responsible and successful adults who, in the absence of financial worries, will have the capacity to focus on their dreams and live their life at their full and true potential.
Let's learn from Ella and Andy. Let's learn about:
- Goal setting and planned spending
- Giving back
- Delayed gratification
- Tracking expenses
- Keeping track of accounts
- Talking openly about money thereby removing the taboo and stigma of money
- Separating savings from spending
- You can only spend what you have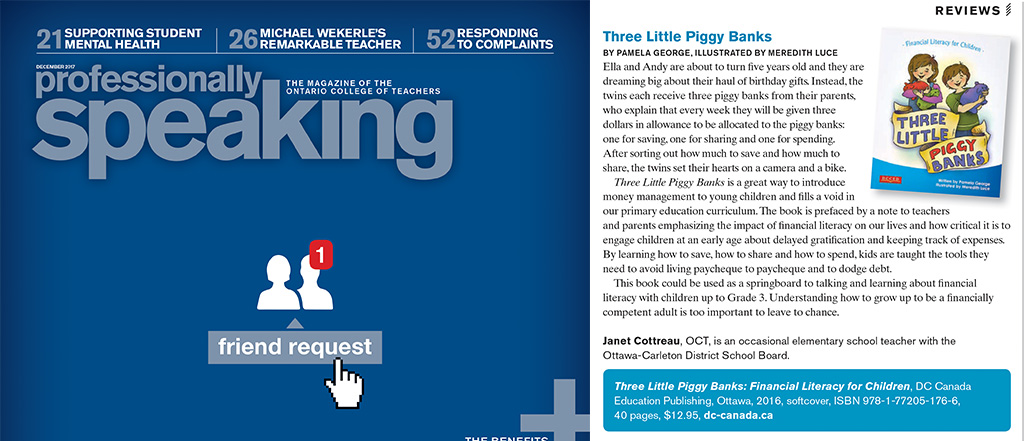 Review by Janet Cottreau, occasional elementary school teacher with the Ottawa-Carleton District School Board.
Ella and Andy are about to turn five years old and they are dreaming big about their haul of birthday gifts. Instead, the twins each receive three piggy banks from their parents, who explain that every week they will be given three dollars in allowance to be allocated to the piggy banks: one for saving, one for sharing and one for spending. After sorting out how much to save and how much to share, the twins set their hearts on a camera and a bike. Three Little Piggy Banks is a great way to introduce money management to young children and fills a void in our primary education curriculum. The book is prefaced by a note to teachers and parents emphasizing the impact of financial literacy on our lives and how critical it is to engage children at an early age about delayed gratification and keeping track of expenses. By learning how to save, how to share and how to spend, kids are taught the tools they need to avoid living paycheque to paycheque and to dodge debt. This book could be used as a springboard to talking and learning about financial literacy with children up to Grade 3. Understanding how to grow up to be a financially competent adult is too important to leave to chance.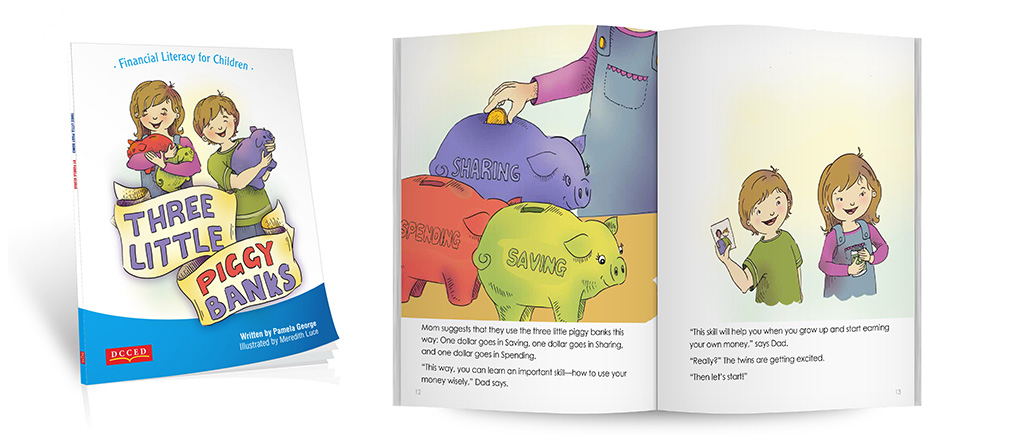 Review by Catherine Bellamy, Resource Link Newsletter
Below is a rave review of Three Little Piggy Banks by Pamela George. The review comes from a librarian, Catherine Bellamy, and is published in the Resource Link newsletter:
As a librarian, I haven't often come across books that teach financial literacy to kids, so when I read Three Little Piggy Banks, I wasn't sure what to expect. Financial literacy can seem intimidating, even for adults who have been paying bills and other expenses for years and years. It seems almost impossible to unpack such a mature subject for the youngest of children, but author Pamela George deftly simplifies the subject for young children. The book provides a very basic understanding of money: saving it, sharing it, and spending it. In the book, five-year old twins, Ella and Andy, are taught about saving money by their parents, who buy them each three piggy banks for their birthday. One piggy bank is for saving, one piggy bank is for sharing, and one is for spending.
In this book, children are shown how to be fiscally responsible in the simplest way. Each week, the children receive an allowance and they must decide how much to put in each bank. The kids each want to buy something big: Ella wants a camera and Andy wants a bicycle. Their parents guide them to getting what they want by setting goals, setting aside money every week, calculating how long it will take to save up enough money, all the while setting aside some of their allowance for sharing with others and for savings. Even though the book is about financial literacy, it also teaches about having compassion for others less fortunate, which is why one of the piggy banks the children receive is for sharing.
The note to parents and teachers by the author at the beginning of the book outlines some of the goals the author hopes the book will accomplish. Among these goals are to teach delayed gratification, keeping track of expenses, living within out means, and separating spending and saving. There is even an exercise that parents can do with kids, such as buying or making piggy banks and decorating them with children (modeled after the story). There is even a worksheet at the end of the book to help kids create financial goals and keep track of how much they are saving, spending, and sharing. This is an excellent book to help parents and educators teach children about financial literacy and why it is so important.