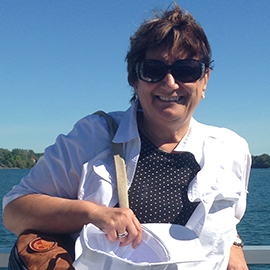 Kalli Dakos has been delighting readers with poetry since the release of her best-selling book, If You're Not Here, Please Raise Your Hand. She has written six IRA/CBC Children's Choice Selections, such as Our Principal Promised to Kiss a Pig and A Funeral in the Bathroom.
A former teacher and reading specialist, Dakos taught at Sir Alexander Mackenzie School in Inuvik, Northwest Territories, Canada. She returns on author visits to encourage the children to write about their fascinating lives above the Arctic Circle. This book was inspired on one of these trips, when "recess in the dark" was chosen as a favourite writing topic.
Dakos frequently celebrates a love of reading in schools all over Canada and the United States, and sometimes as far away as Hong Kong. She has an office in Ogdensburg, New York, and lives in Ottawa, Canada.