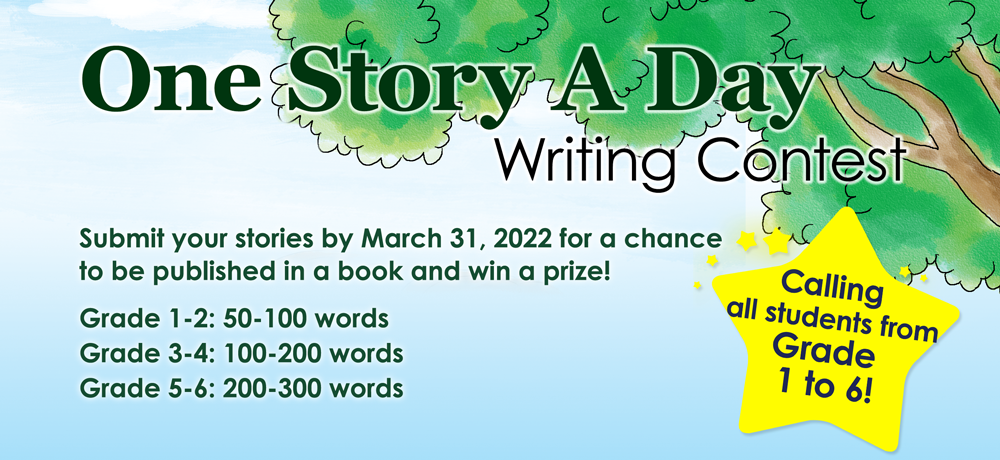 If you've ever dreamed about seeing your words published for kids around the world to read, this is your chance! Our second ever DC Canada One Story a Day Writing Contest is underway, and if you're in grade 1 to 6 and live in Canada, we want to see what you've got. Submit your work before the deadline for a chance to be published and/or win a cash prize!

Three Categories
Grades 1 and 2: 50 to 100 words
Grades 3 and 4: 100 to 200 words
Grades 5 and 6: 200 to 300 words
Awards
Top three winners in each category
Top school award
Top 30 or so stories will be published

The top three winners in each category will receive a cash prize and be published in an illustrated storybook. The school with the most participants will also win a prize - lots of our books and games!
1. How to enter
The entrant must fill out the appropriate contest entry form and follow contest directions in full to be eligible. By entering the contest, the entrant consents to the release of their name. The entrant declares to have complied with the contest rules. Furthermore, the winners must conform to all direction given by the contest organizers or their participation in the contest will be denied.
2. Contest Period
All entries must be received by 12:00 P.M. (Eastern Standard Time) on the advertised deadline date of the contest.
3. Prize
The prize is neither refundable nor transferable and cannot be extended. NO SUBSTITUTION OF PRIZES IS PERMITTED EXCEPT BY DC CANADA EDUCATION PUBLISHING IN ITS SOLE DISCRETION. DC CANADA EDUCATION PUBLISHING RESERVES THE RIGHT TO SUBSTITUTE ANY PRIZES WITH ANOTHER PRIZE OF EQUAL OR GREATER VALUE. PRIZES ARE NON-TRANSFERABLE AND ARE NOT REDEEMABLE FOR CASH OR CREDIT.
4. Winner Selection and Qualification
A panel of judges will evaluate each story based on the following criteria to determine which ~30 stories will be published and which will win prizes. While CREATIVITY weighs the most in the judges' rubric, WRITING STYLE and GRAMMAR will also be considered.
• Creativity: uniqueness of ideas, topics, objective of story
• Writing style: narration, word choice, description, figurative language, text organization/logic
• Grammar: spelling, punctuation, sentence fluency
Stories exceeding 300 words will be disqualified (stories submitted before 17-01-22 are exempt from this decrease). Only submissions from children grades 1-6 who live in Canada will be considered. One submission per person.
5. General Terms and Conditions
Contest entrants agree to abide by the terms of these General Rules and Regulations. Return of any prize/prize notification as undeliverable may result in disqualification and selection of an alternate winner.
6. Personal Information
We collect your contact info and address at this stage for two reasons: to make contacting the winners simple and to collect statistics and improve our marketing. Your information will not be released. The name, province/territory, and grade of the winners and those who will be published will be announced when the contest judging period ends.
Everybody knows the great writers whose renown transcends generations: Shakespeare, Vernes, García Lorca, Tolstoy… How could a kid like me ever write something that compares to their literary masterpieces? Why can't I be the next J.K. Rowling?
If you've ever felt this way, you aren't alone; it can be intimidating to reflect on the piles and piles of wonderful books and poems that already exist, wishing that your work could someday be among the classics. But don't fret if you feel you lack what it takes to pen novels like Orwell—writing skills can be developed and improved. With practice, perseverance, and patience, any writer can create something worth celebrating… and maybe even have it published!
Each time you pick up a pencil or sit down at your computer, you're about to create. Maybe it's a perfectly penned email. Maybe it's a letter to your future children. Maybe it's the next Harry Potter.
No matter what you're writing, you inadvertently leave a piece of yourself in your work. It's in the way you string your sentences together and the vocabulary you maneuver, in the topics you choose to illustrate and the perception you impart on your reader. You can learn a lot about a person by reading their stories.
Purchase One Story A Day by Kids for Kids