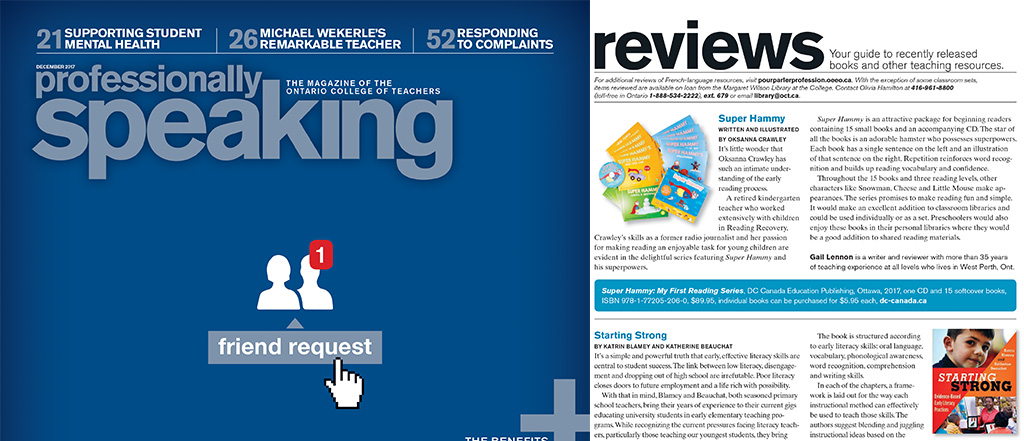 Gail Lennon is a writer and reviewer with more than 35 years of teaching experience at all levels who lives in West Perth, Ont.
It's little wonder that Oksanna Crawley has such an intimate understanding of the early reading process. A retired kindergarten teacher who worked extensively with children in Reading Recovery, Crawley's skills as a former radio journalist and her passion for making reading an enjoyable task for young children are evident in the delightful series featuring Super Hammy and his superpowers. Super Hammy is an attractive package for beginning readers containing 15 small books and an accompanying CD. The star of all the books is an adorable hamster who possesses superpowers. Each book has a single sentence on the left and an illustration of that sentence on the right. Repetition reinforces word recognition and builds up reading vocabulary and confidence. Throughout the 15 books and three reading levels, other characters like Snowman, Cheese and Little Mouse make appearances. The series promises to make reading fun and simple. It would make an excellent addition to classroom libraries and could be used individually or as a set. Preschoolers would also enjoy these books in their personal libraries where they would be a good addition to shared reading materials.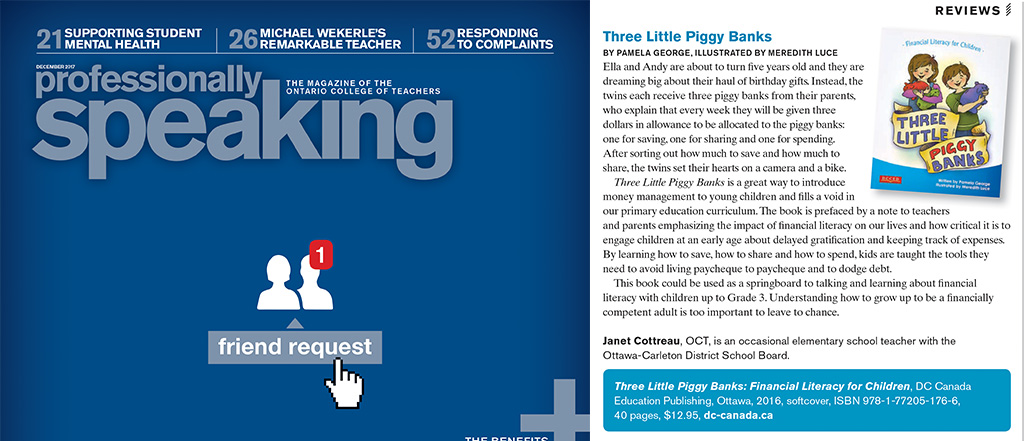 Review by Janet Cottreau, occasional elementary school teacher with the Ottawa-Carleton District School Board.
Ella and Andy are about to turn five years old and they are dreaming big about their haul of birthday gifts. Instead, the twins each receive three piggy banks from their parents, who explain that every week they will be given three dollars in allowance to be allocated to the piggy banks: one for saving, one for sharing and one for spending. After sorting out how much to save and how much to share, the twins set their hearts on a camera and a bike. Three Little Piggy Banks is a great way to introduce money management to young children and fills a void in our primary education curriculum. The book is prefaced by a note to teachers and parents emphasizing the impact of financial literacy on our lives and how critical it is to engage children at an early age about delayed gratification and keeping track of expenses. By learning how to save, how to share and how to spend, kids are taught the tools they need to avoid living paycheque to paycheque and to dodge debt. This book could be used as a springboard to talking and learning about financial literacy with children up to Grade 3. Understanding how to grow up to be a financially competent adult is too important to leave to chance.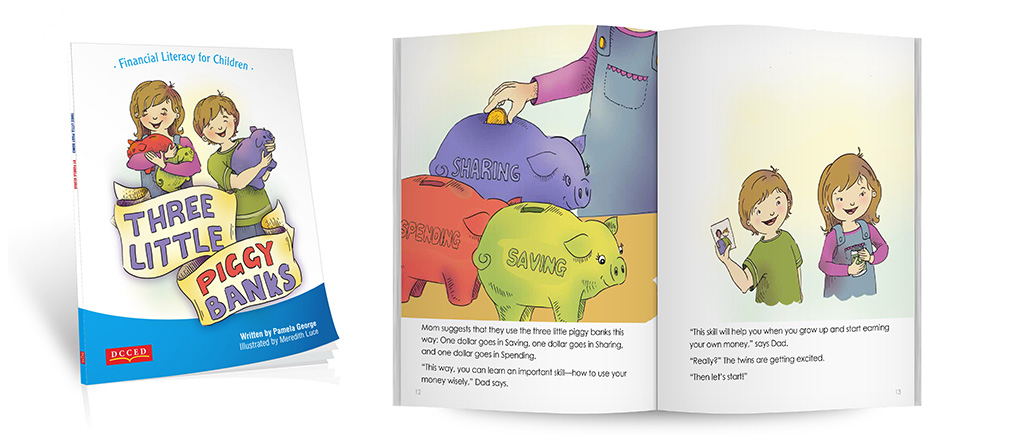 Review by Catherine Bellamy, Resource Link Newsletter
Below is a rave review of Three Little Piggy Banks by Pamela George. The review comes from a librarian, Catherine Bellamy, and is published in the Resource Link newsletter:
As a librarian, I haven't often come across books that teach financial literacy to kids, so when I read Three Little Piggy Banks, I wasn't sure what to expect. Financial literacy can seem intimidating, even for adults who have been paying bills and other expenses for years and years. It seems almost impossible to unpack such a mature subject for the youngest of children, but author Pamela George deftly simplifies the subject for young children. The book provides a very basic understanding of money: saving it, sharing it, and spending it. In the book, five-year old twins, Ella and Andy, are taught about saving money by their parents, who buy them each three piggy banks for their birthday. One piggy bank is for saving, one piggy bank is for sharing, and one is for spending.
In this book, children are shown how to be fiscally responsible in the simplest way. Each week, the children receive an allowance and they must decide how much to put in each bank. The kids each want to buy something big: Ella wants a camera and Andy wants a bicycle. Their parents guide them to getting what they want by setting goals, setting aside money every week, calculating how long it will take to save up enough money, all the while setting aside some of their allowance for sharing with others and for savings. Even though the book is about financial literacy, it also teaches about having compassion for others less fortunate, which is why one of the piggy banks the children receive is for sharing.
The note to parents and teachers by the author at the beginning of the book outlines some of the goals the author hopes the book will accomplish. Among these goals are to teach delayed gratification, keeping track of expenses, living within out means, and separating spending and saving. There is even an exercise that parents can do with kids, such as buying or making piggy banks and decorating them with children (modeled after the story). There is even a worksheet at the end of the book to help kids create financial goals and keep track of how much they are saving, spending, and sharing. This is an excellent book to help parents and educators teach children about financial literacy and why it is so important.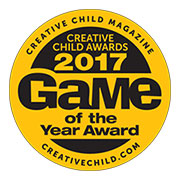 PLAY WISE GAME – CREATIVE CHILD REVIEWS
« This game gives all kids playing an important roll all at the same time, making every child engaged throughout playing. This game sparks conversation, thinking, and ideas among kids as they play. This would be a great game at after school care, or even a family game to play at home. »
« This is a really fun board game for young kids. I like that there are 3 different versions for kids to switch up and play, they won't ever get board. The box/packaging is colorful and inviting. »
« This is fun and educational, would appeal to curious kids »
La Charte pour les enfants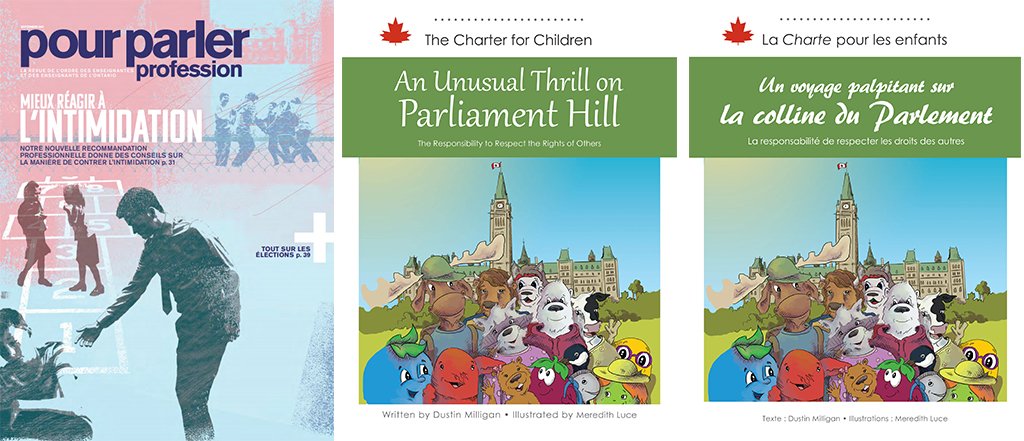 Review by Lucienne Béatrice Koua Dubé, EAO, teacher, Gabrielle-Roy school, Conseil scolaire Viamonde, Toronto.
AN UNUSUAL THRILL ON PARLIAMENT HILL
BY DUSTIN MILLIGAN, ILLUSTRATIONS BY MEREDITH LUCE
You have a noisy class in which certain students do not follow instructions or the school's rules? Here is a resource you mind find useful. An Unusual Thrill on Parliament Hill is part of a 14 book series, The Charter for Children. With its playful characters, including Olivia the raccoon, the author makes students from 9 to 11 years old aware of the Canadian Charter of Rights and Freedoms, whose concept can be complex and hard to understand. In this book, Olivia, while visiting Parliament Hill with a tiresome group of students, ends up in a room where former Canadian ministers are gathered, Sir John A. Machouettald, namely! The great man reminds her that our rights will only be respected if certain limits are. In relation to this book, you could organize, with your students, a brainstorming activity: ask them to name some rights and freedoms or to write a paragraph on their opinion of the book. In social studies, you can create opposing teams: those who militate for a right and those who think that, for a good protection, certain limits must be respected.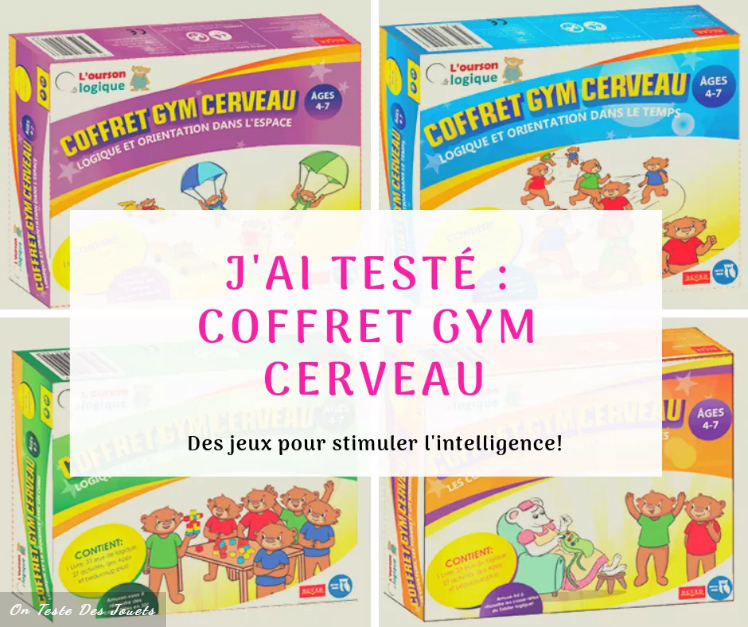 Do you like to be impressed by your children? Personally, it makes me really proud when it happens, but I must confess that I don't really grasp the stage at which they should be. When I compare how I was at my children's age, I tend to find that they are much more advanced than me… but I also have the impression that I'm comparing apples and oranges.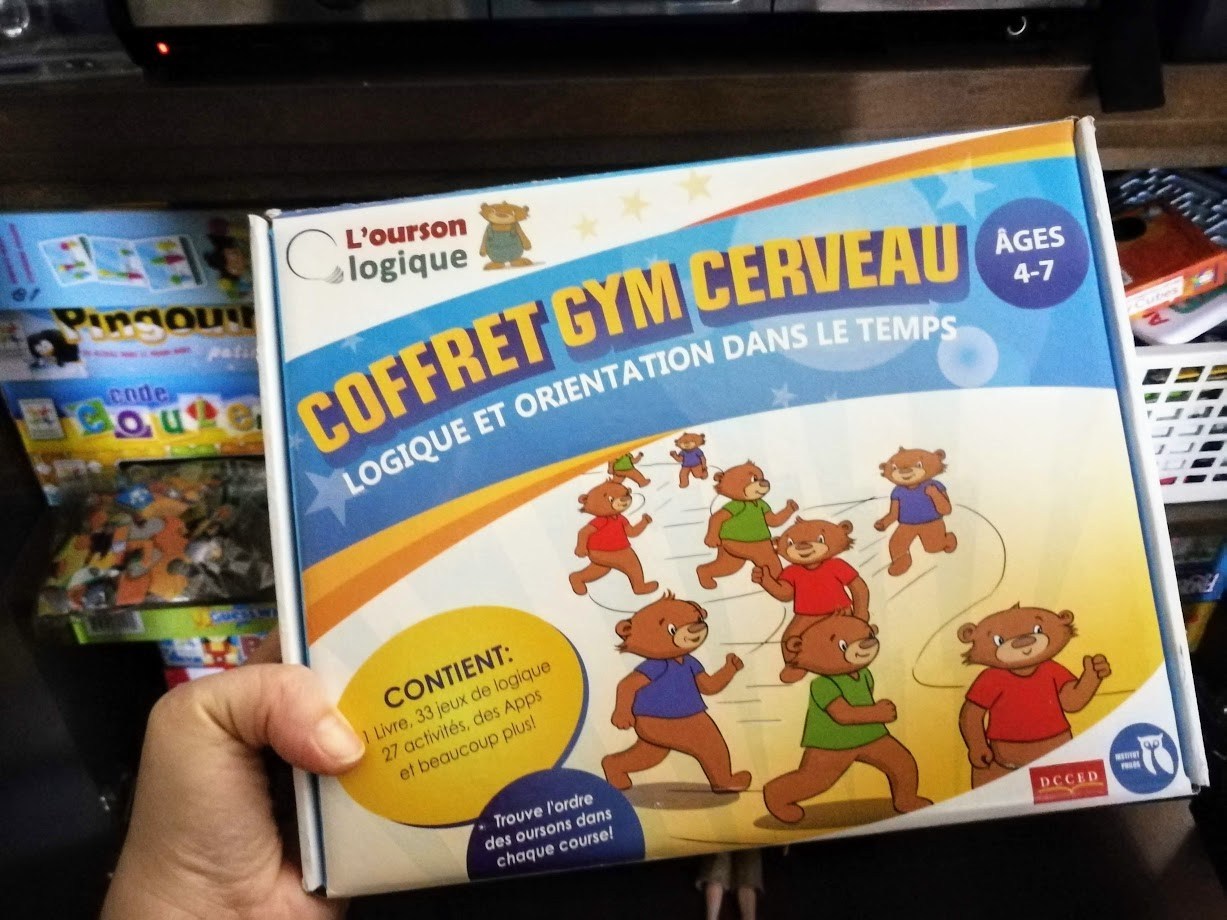 COFFRET GYM CERVEAU BY DC CANADA EDUCATION PUBLISHING
Not that I want to "measure" my children at all costs, but I would like to know that we are going in the right direction. As a parent, I'm confronted with a multitude of sources concerning their development; the more I read, the more I'm uncertain, because the information seems to contradict itself. On the bright side, through my research, I came across SMARTI BEAR BRAIN FITNESS, a program based on the scientific research of Dr. George Ghanotakis concerning the executive functions of the brain.
The BRAIN FITNESS program
I must tell you, just by reading them, I had a soft spot for the brain fitness boxes and I asked if I could test them out! What is the Brain Fitness Gift Box? It's is a series of history books and logic games for children aged 4 to 7. The four boxes focus on developing children's essential skills to stimulate their intelligence.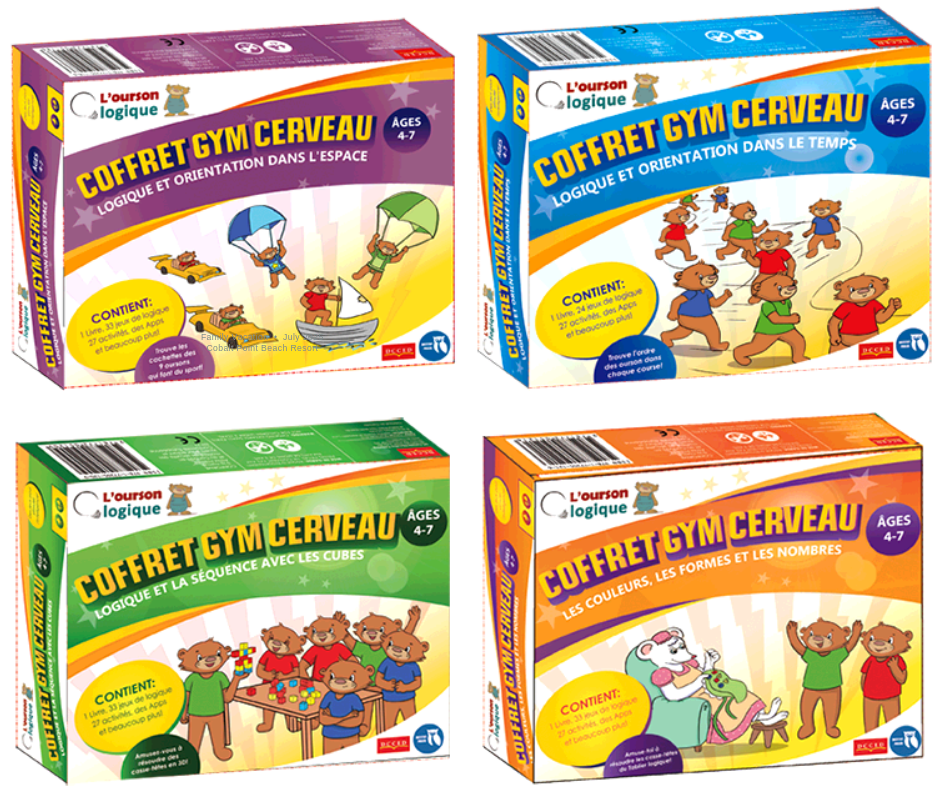 Brain Fitness Box 1: Logic and Spatial Orientation
The box contains everything you need to improve working with grids, develop attention and planning skills, cultivate reading and math abilities, name and classify according to colours and sequences, solve problems, and interpret visual cues.
Brain Fitness Box 2: Logic and Time Orientation
This box that I tested contains the necessary materials to improve working with grids, compare and confirm events according to their order in time, develop reading, mathematics, and problem-solving strategies, … as well as respond to visual and verbal instructions.
Brain Fitness Box 3: Logic with 3D Patterning
Inspired by the game Super Teddyx, Citation of Excellence (CTTC), this 3rd box aims to improve working with models, measuring and estimating the dimensions of objects, building in 2D and 3D, reading mathematics, remembering, understanding and solving problems, comprehending notions of symmetry and solid forms, and responding to visual and verbal instructions.
Brain Fitness Box 4: Logic with Shapes, Colours and Numbers
This last box of the series improves the recognition of geometric shapes, the mastery of interior-exterior and left-right concepts, the creation of analogies, the classification of symbols, as well as abilities in reading and mathematical reasoning, deduction, memory, comprehension, … and the response to visual and verbal instructions.
My Test of the Brain Fitness Box 2
As a curious person, I had to ask if I could test one of the boxes and I was sent the Brain Fitness Box 2. The good news is that it's really easy to get started and part of what made the Brain Fitness concept interesting for me is that the boxes are as much for my four-year-old son as for my seven-year-old daughter.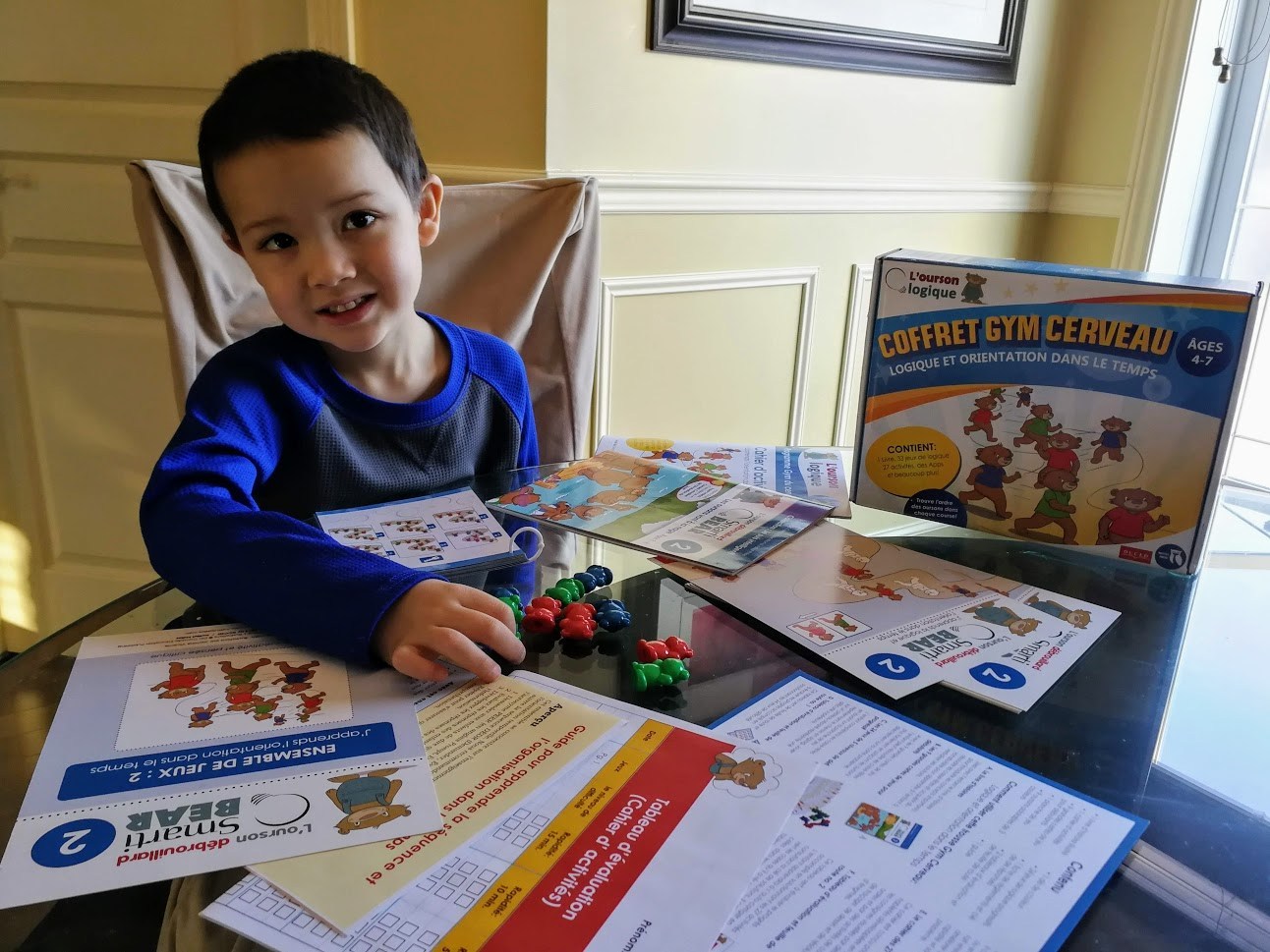 PHOTO CREDIT : CAROLINE VALLIERES
This is a useful series for the little ones as it's easy to use and understand for kids and parents alike. Although I love the concept, I don't see the boxes as educational toys that will appeal to children. After testing it with my kids, I put the box away among their many board games and a few weeks later, I can admit that neither child took it out again. So, for me, it's more of a measurement tool that allowed me to explain concepts to my son and evaluate my daughter's understanding of these same concepts. The downside to these boxes is in the activity books, in that one must be bought for each child. I would have liked a reusable formula. To avoid having to buy an extra notebook, I didn't let my children write their answers inside.
I invite you to discover the Brain Fitness boxes, and if you teach your kids at home or if your children don't go to daycare, you will most likely find them great. For others, like me, you can use the set to see where your little ones are in their academic development.
GET NOTIFIED ABOUT THE NEXT UPDATE