Dive into the beauty of nature and discover more about the amazing animal groups of North America in this find-the-hidden-picture book by Caroline Fernandez. Find the butterfly and other unique animals in each page of this jaw-dropping 2022 release illustrated by Erin Mercer and learn more about the fauna of our continent.
Full-colour illustrations with hidden animals to seek
Definitions and fun facts about the animals
Matching, research, and hands-on activities
Caroline Fernandez is an award-winning author of children's books and blog posts. She is the author of Stop Reading This Book, The Adventures of Grandmasaurus (series), Asha and Baz (series) and more! Twitter and Instagram: @ParentClub.
Caroline writes, drinks tea, and bakes in Toronto, ON.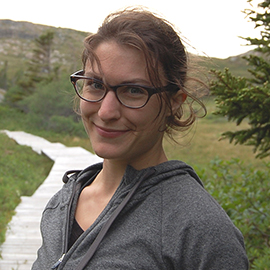 Erin Mercer is an up-and-coming children's book illustrator living in Toronto, Canada, where she also produces greeting cards and fine art for artisan markets. She has even worked for Canadian video game studios! Her colourful, whimsical aesthetic focuses on characters and storytelling, and she loves to inject humour into her work. She mixes traditional and digital media, merging her background in fine arts and concept art. She enjoys an active lifestyle, cooking, attending live theatre, and traveling, all of which influence her artwork. See more from Mercer on her website: www.pencilempire.com.