Dive into the beauty of nature and discover more about the amazing animal groups of North America in this jaw-dropping find-the-hidden-picture book written by Caroline Fernandez and illustrated by Erin Mercer. Find the butterfly and other unique animals in each page to learn more about the fauna of our continent!
🦙 Full-colour illustrations with hidden animals to seek
🐖 Definitions and fun facts about the animals
🧠 Matching, research, and hands-on activities
Ages: 4 -7
Language: English
Dimensions: 8.75"x11.25"
ISBN: 978-1772057393
Reviewer: Dave Jenkinson, Canadian Review of Materials' editor, Winnipeg, Manitoba.
The premise of Hide and Seek: Wild Animal Groups in North America is that a Monarch butterfly has become separated from the rest of its fellow butterflies and has gone in search of them. In various settings along its search path, the solitary butterfly encounters 26 other North American animals, and readers learn the collective term given each animal group that the butterfly meets. Mercer's opening illustration of the butterfly appears to situate it in what seems to be an icy background. Turning the page provides confirmation as the double page spread is a snowy Arctic setting, one that is literally overrun by wolves and hares, with Fernandez's text reading:
A pack of arctic wolves
A dawn of arctic hares>
The reason for the surfeit of wolves and hares is found in the remainder of Fernandez's text which is set off in a box located at the bottom right corner of the recto. In this instance, it reads:
Find this wolf, this hare and a butterfly.
Where is the rock shaped like a hare?
The text's "this" is made concrete by a Mercer illustration which specifies which of the numerous wolves or hares the child reader is to locate.
This pattern of the reader's having to find four things in each spread, with one always being the butterfly, is repeated a dozen times. Ultimately, young readers are introduced to a total of 27 collective nouns. The last spread finds the Monarch butterfly successfully reunited with its "flutter".
The settings for the animal pairings have an internal logic, and so a "lap" of polar cod and a "blessing" of narwhals share an ice berg dotted ocean while a "herd' of moose and an "earth" of red foxes wander through a forest. A nighttime forest is also home to some nocturnal animals – a "gaze" of racoons and a "parliament" of snowy owls. A lake or river hosts a "shoal" of bass and a "scourge" of mosquitoes, and an open field welcomes a "string" of ponies and a "kine" of cows.
Because of the book's hide and seek nature, Mercer's illustrations are necessarily "busy", and children will be truly challenged to find the animals or things requested by Fernandez, especially the tiny butterfly. The hide and seek "Solutions" page at the end of the book could have been improved upon as all 14 spreads are squished into a single page with red circles indicating the locations of the three "Find" things and a yellow circle doing the same for the "Where" question. Some eyes, especially older ones, may need a magnifying glass in order to confirm answers.
In addition to "Solutions", end matter includes a definition of "collective noun", a listing of the book's collective nouns and an invitation to circle the collective nouns "you heard before reading this book", and 10 additional collective nouns for animals not represented in the book. "About the Animals", four pages in length, presents the book's animals in alphabetical order and offers brief information about each.
Beaver – A colony of beavers
Beavers can live up to 24 years. They are the largest rodents in North America and can be found in rivers, ponds, lakes, and woodlands, where they build dams.
"Look and Match" is really an identification task where "lettered" images of the book's 27 critters are to be matched with its numbered name.
Hide and Seek: Wild Animal Groups in North America, a fun activity book, an introduction to 27 members of the animal world and a vocabulary builder, has its place in home collections and in classrooms. Teachers can build upon this introduction to collective nouns and followup on the book's suggestion, "Imagine you had to come up with an animal group name. What would it be and for which animal."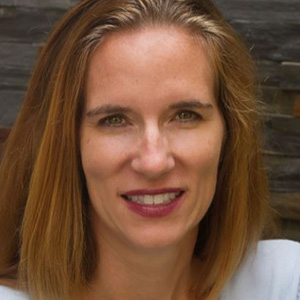 Caroline Fernandez is an award-winning author of children's books and blog posts. She is the author of Stop Reading This Book, The Adventures of Grandmasaurus (series), Asha and Baz (series) and more! Caroline writes, drinks tea, and bakes in Toronto, ON. She is the proud mother of three bilingual kids.
Twitter and Instagram: @ParentClub
Website: https://parentclub.ca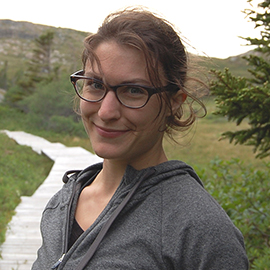 Erin Mercer is an up-and-coming children's book illustrator living in Toronto, Canada, where she also produces greeting cards and fine art for artisan markets. She has even worked for Canadian video game studios!
Her colourful, whimsical aesthetic focuses on characters and storytelling, and she loves to inject humour into her work. She mixes traditional and digital media, merging her background in fine arts and concept art.
She enjoys an active lifestyle, cooking, attending live theatre, and traveling, all of which influence her artwork. See more from Mercer on her website: www.pencilempire.com.