Super Hami: Collection premières lectures comprend 15 livres qui décrivent les grandes aventures d'un puissant petit héro et son amie Petite Souris. Les histoires simples et amusantes sont racontées en phrases courtes idéales pour les élèves de maternelle, de jardin et de première année.
Super Hami ABC est un livre d'alphabet innovateur! Joignez-vous à Super Hami et son amie, Petite Souris, afin d'apprendre non seulement le nom des lettres mais également le son qu'elles font.
Personnages adorables et drôles
Vocabulaire et structure de phrase contrôlés
Contes simples qui peuvent être liés à la vie quotidienne des enfants
Piste sonore lue par des acteurs professionnels
Plans de cours et astuces pour les parents
Langues: Anglais | Français
NIVEAUX SELON FOUNTAS & PINELL | OFFICIALLY LEVELLED BY FOUNTAS & PINELL



Oksanna Crawley is a retired kindergarten and Reading Recovery™ teacher with 25 years teaching experience in Canadian schools. In addition to the Super Hammy reading series, she has written and illustrated a children's hockey story, "So, You Be Keon and I'll Be Mahovlich", about Toronto Maple Leafs legend, Bill Barilko.
Prior to beginning a career in education, she worked as a radio journalist and newscaster. She is a graduate of the University of Toronto. She is passionate about helping children learn to read.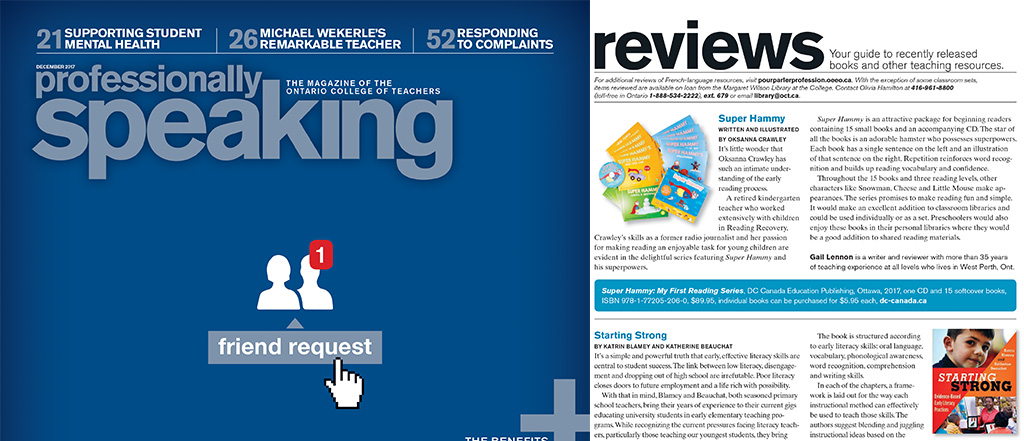 Gail Lennon is a writer and reviewer with more than 35 years of teaching experience at all levels who lives in West Perth, Ont.
It's little wonder that Oksanna Crawley has such an intimate understanding of the early reading process. A retired kindergarten teacher who worked extensively with children in Reading Recovery, Crawley's skills as a former radio journalist and her passion for making reading an enjoyable task for young children are evident in the delightful series featuring Super Hammy and his superpowers. Super Hammy is an attractive package for beginning readers containing 15 small books and an accompanying CD. The star of all the books is an adorable hamster who possesses superpowers. Each book has a single sentence on the left and an illustration of that sentence on the right. Repetition reinforces word recognition and builds up reading vocabulary and confidence. Throughout the 15 books and three reading levels, other characters like Snowman, Cheese and Little Mouse make appearances. The series promises to make reading fun and simple. It would make an excellent addition to classroom libraries and could be used individually or as a set. Preschoolers would also enjoy these books in their personal libraries where they would be a good addition to shared reading materials.