Run faster. Jump higher. Swim farther. Cycle, surf, punch, shoot, ride, row. For millennia, humans have been training to go above and beyond their bodies' limits. Overcoming obstacles is basically a requirement in the age-old Olympic tradition.
Paralympic athletes are no stranger to overcoming obstacles—since the first Paralympics in Italy, 1960, thousands of people with disabilities have shown again and again that they too can perform incredible feats. So is the case in Igor Plohl's Lucas at the Paralympics!
This adorable hardcover book illustrated by Urska Stropnik Sonc follows Lucas and Eddie, two animal friends in wheelchairs who attend the Summer Paralympics. They explore many different sports and cheer on a friend who competes in para swimming. Lucas and Eddie also learn about winning and losing, and leaving their friend space to express his disappointment after a loss.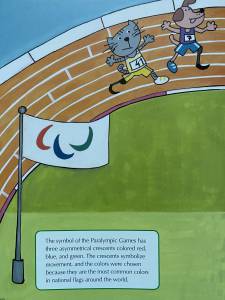 Almost every page is accompanied by an informational bubble detailing anything from the Paralympic flag significance to the ins and outs of sitting volleyball. An excellent way to combine story and history!
First published in Slovenian, Lucas at the Paralympics touches its readers, especially knowing the author is writing from the heart—after an accident, Plohl became paraplegic. Soon thereafter, he began to advocate for his community, writing books about disabled experiences including this 2018 release perfect for kids 5-10.
As I write this review, the radio announcer is commending Canadian athletes at the 2020 (technically 2021) Tokyo Olympics. There is no better time to flip open Lucas at the Paralympics and teach young readers that athletes are all different and all amazing.
Buy your copy on Amazon or through Penguin Random House. Don't miss the 2021 sequel Lucas Makes a Comeback!