Running a small business – especially during a global pandemic – is a unique sort of challenge. Nevertheless, for over 25 years, DC Canada Education Publishing has been developing educational children's books, games, and music to cater to Canadian and international markets. The quality of our resources and their success in classrooms and homes worldwide proves that we're doing something right!
Why We Publish
Kids everywhere deserve to have books: books that inspire them, books that reflect their experiences, books that teach them to read and write and practice open-mindedness. The essential skills children build from early literacy will follow them throughout their entire lives, as will the love of learning we hope to impart on our young readers. We believe in starting small. That's why our earliest series, Best Reading! Phonics, and our two alphabet books, The Alphabet Family and Super Hammy ABC, address the individual letters and sounds that make up the English language. As the child begins to grasp these concepts, we introduce early reading series such as Super Hammy and One Story a Day for Beginners. The young reader therefore builds confidence and progresses with the level of each book. It's a story of success every time!
The fact that we created a business around children's literature and have many employees enthusiastically working on tons of new projects every day only means that we love what we do. And if even just one child benefits from the resources we publish, we'll go home happy.
Educational Mandate
But our books don't only help kids learn to read. We strive to produce materials that are educational in more ways than one! Educational books are a broad category simply because education itself is so vast. Learning Spanish is educational. Studying viruses is educational. Calculating the force needed to score a basket while playing basketball in the school yard is educational as well. So when it comes to educational children's books, you'll find quite a variety. Check out these examples: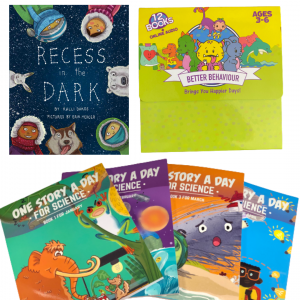 One Story a Day for Science is a series of 365 short tales about different kinds of science. Here, we have the story itself (reading skills), definitions and grammatical concepts (vocabulary and writing skills), comprehension questions, and of course the science itself, for example a story about how volcanoes are formed followed by a science experiment to do at home.
Recess in the Dark is a poetry book set in Northern Canada that dives into culture, tradition, geography, and natural sciences—the Northern Lights. This book could be used to teach about different cultures; about poetry, rhythm, and rhyme; and even about animals up North.
The Better Behaviour series not only improves early reading with its simple sentences and recognizable pattern, but also develops children's social skills, addresses health and safety topics, and even works on establishing boundaries.
The best didactic children's books combine many types of learning. Here are a few possibilities:
Reading and comprehension
Writing and creativity
Cultural exploration (discovering different traditions, religions, beliefs, etc.)
Language learning
Fostering curiosity
Logic and critical thinking
STEM skills and interest
and so many more!
The more one incorporates into a children's book, the more its readers will benefit. We never stop learning, even as adults. So the possibilities for kids' educational books are endless!
Making a Difference
Our children's books, games, and songs are built with our readers in mind. We want to represent the diverse experiences and identities of ALL children! Why? First, kids deserve to see themselves represented. Then, kids who have always been represented need to see OTHERS as the heroes of their own stories. This teaches all children that all children deserve to be written about and gives them a glimpse into other people's experiences, thereby fostering respect, understanding, and acceptance. Isn't that what we want for our children?
We want to make a difference in the life of every child. Giving them the tools they need – financial literacy, reading and writing, empathy, passion, discovery – sets them on the right path from a young age. We want to use our voice to uplift those in need and teach kids to do the same. After all, books like ours will be on people's bookshelves for years (and hopefully decades or centuries) to come!
–
DC Canada Education Publishing recognizes that we operate on the unceded Algonquin territory of the Anishinabe people.